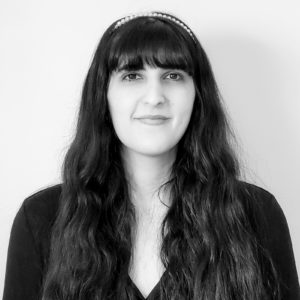 Maya was born in California and raised in Jerusalem, Israel. She moved back to Jerusalem when she was 3 and back to the United States again at 19. She has been in a very loved and committed relationship for about 8 years now. She is very excited to pursue a career in graphic design. She likes waking up early in the morning, going through small routines, and then designing by turning information into compelling visuals. She tends to talk a lot about design, but that's because the design has become a big part of her. In some ways, design has now become a part of her daily life and it influences much of her decision making.
---
THESIS
Women have played a significant role in shaping graphic design as we know it today. However, their contribution is often overlooked. Some may not be recognized in history since the industry is traditionally male-dominated and many well-known designers are often men. In the 20th century, female graphic designers played a big part in expanding social causes, improving the daily lives of citizens, and tackling gender imbalance. Their efforts and contributions allowed more females to pursue graphic design as a career.
Today, design still lacks women in leadership only 11% of creative directors in our industry are women (3percentmovement 2017), even though female graphic designers have spent many decades trying to make their mark and setting their own trends. Moreover, many female graphic designers took lead roles in existing agencies and others established their own successful businesses.
This project showcases powerful female designers from times that were even more challenging than it is today— allowing their breakthrough and incredible work to inspire those who still may be experiencing these problems today. These powerful female designers were in a time that was more challenging to become a female graphic designer than it is today. However, they were able to break through and produce incredible work. Yes, we've come a long way, but there's still work to be done. Be inspired through the confidence and bravery of these pioneering women!
---
More to Check Out
View her portfolio online at mayahodgins.com